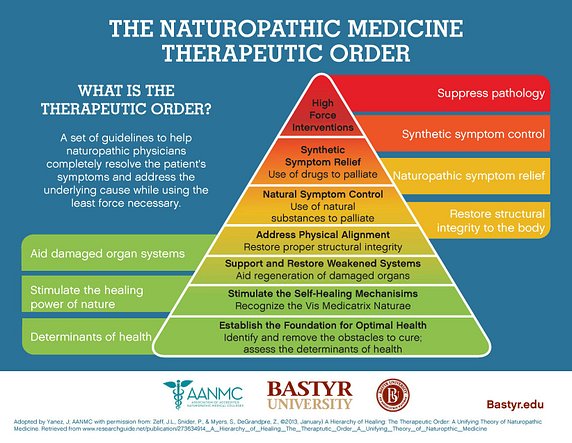 How can a naturopathic doctor help me?
What is the therapeutic order?
Naturopathic medicine is not a novel idea derived from "Modern Medicine" but a traditional health approach. It is inherited from historical philosophy as old as Socrates. Naturopathy emphasizes the body's self-healing power. In human bodies, there is an inherited ability that maintains the organization and promotes health. What naturopathic medicine does is to remove the obstacles and strengthen the body's ability to heal. In other words, naturopathic medicine is not limited to helping people with their symptoms but, more importantly, identifying and treating the root cause of diseases.



Naturopathic medicine diagnoses, treat and prevent diseases by emphasizing the bodies self-healing power and a whole-body approach. Naturopathic doctors evaluate and treat patients physically, emotionally, genetically, environmentally, and socially.
Encouraging and educating people to have a healthy lifestyle is the basis for naturopathic medicine. Analogously, naturopathic doctors act like coaches. Therefore, naturopathic doctors quickly establish a close and reliable relationship with their clients.
In return, each patient will have an individualized treatment plan that is most appropriate for them. Compared to conventional treatments, natural remedies aim to re-establish health foundations and have the least side effect. Most naturopathic remedies are from natural sources, such as whole food, botanical products, and essential nutrients.
Naturopathic doctors apply different interventions based on the therapeutic order. As illustrated above, NDs always begin by using the lowest force intervention and help you establish health foundations. We want to help you understand your body, what your test results reflect, look for your best treatment approach, and cope with any side effects if you already on medications.