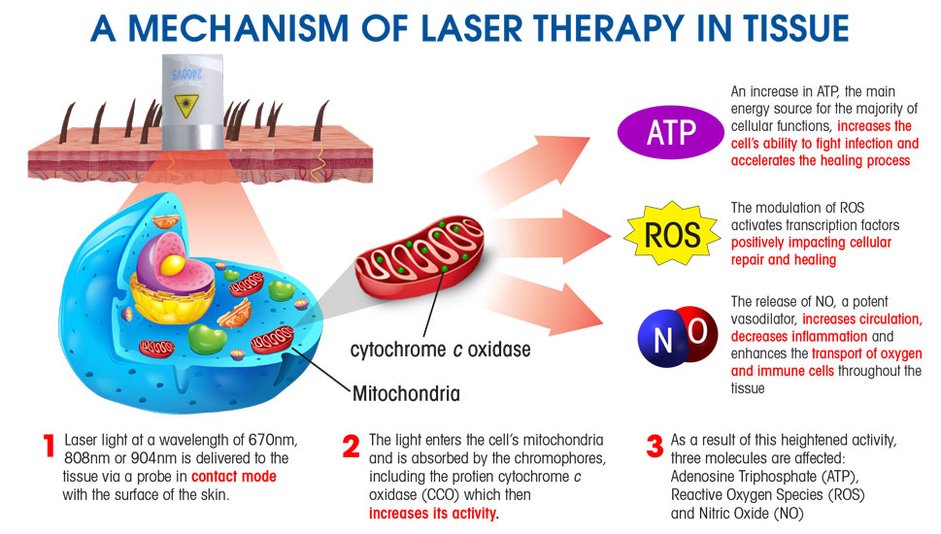 Is it safe?
Therapeutic laser therapy is an extremely safe procedure. In fact, in over thirty years of therapeutic laser use there have been zero complications or unwanted side effects. However it should not be used on anyone taking a drug which causes photosensitivity, cancer patients or pregnant women. The doctor will discuss these fully with you during the pre-treatment consultation.
Benefits of High Power Laser Therapy
Most conditions begin to show signs of improvement in just a few visits.
There are no harmful side effects like those associated with pain medications or surgery.

The results of laser therapy, for many individuals, have been shown to last for years.

Laser therapy is a safe, pain-free treatment that only takes a few minutes per visit.

Laser therapy works well for a variety of painful conditions.

Laser therapy is not habit forming.

It's effective.
For more information and how peopel feel about the treatment, click here!
We combine Professional Superluminous LED Light Therapy along with our High Powered Class IV Laser Therapy, Whole Body Vibration, Myofascial Release Techniques to treat a wide variety of Neuro-Musculo-Skeletal Injuries, Acute and Chronic Pain, Neuropathy, Sciatica, Arthritis, Skin Disorders, Sports Injuries, Disc Pain and Much more, all without Drugs!
The world's most advanced therapeutic laser treatment has arrived at our clinic, one of the first clinics in southern California to use the newly FDA-cleared Class IV Diowave Laser Photobiostimulation therapy. The same laser used by professional baseball and football teams. Our doctors treat patients with painless, relaxing sessions to alleviate pain and heal tissue, for conditions such as:
Arthritis (RA & OA) Achy/Stiff Joints Neck & Back Injuries Shoulder Pain Tennis Elbow Muscle & Ligament Tears Knee & Hip Pain Trigger Points Muscle Spasms Sprains/Strains Rotator Cuff Tear Sciatica (Leg Pain) Arch Pain Herniated Discs Any Disc Injury Foot/Ankle Plantar Fasciitis Ankle Sprains Achilles Tendinitis Shin Splints Poor Circulation Stress Fractures Bunion Pain Nerve Pain Migraine Headaches Carpal Tunnel Syndrome Most all skin conditions Shingles Pain